---
---
Recent Calculators News
Simple way to work out if you will have enough money to retire
There are some simple online calculators that enable you to see if your super fund savings are on track for you to enjoy a comfortable retirement. The amount you need may not be as big as you think.
Nicole Pedersen-mckinnon. Sydney Morning Herald. Sat, 06 Nov 2021 23:00:00 +1100.
---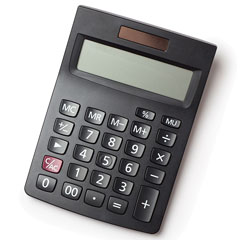 Calculators Websites
The word calculator is a noun. Calculator means (1) a small machine that is used for mathematical calculations, (2) an expert at calculation (or at operating calculating machines). The Quisto editorial staff has evaluated these websites and placed them in the Calculator information category.
calculator.com
Online calculators for fractions, currency, time, and unit conversion. Some solve problems, some satisfy curiosity.


http://www.calculator.com/

Metric Conversion Calculators
Features metric conversion calculators for length, weight, pressure, volume, and temperature.


http://www.worldwidemetric.com/measurements.html
---
Copyright © 2004-2021 Quisto.com. All rights reserved.
Quisto™ • Selected resources from the World Wide Web.

Quisto > Reference > Calculator Website Directory