---
---
Internet Categories
---
Recent Internet News
SpaceX launches fourth batch of 60 Starlink satellites
After two days of delays, SpaceX finally launched a Falcon 9 rocket Wednesday carrying a fourth batch of 60 Starlink internet relay satellites, part of what will be a globe-spanning constellation of broadband beacons. Watch the launch.
CBS News. Wed, 29 Jan 2020 10:14:03 -0500.
Aggregated Internet News
Recent news about internet from English-language newsfeeds around the world.
Regional Directory News. Wed, 29 Jan 2020 12:57:48 -0500.
---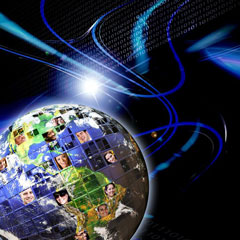 Internet Websites
The Internet is a publicly-accessible computer network which connects many smaller networks around the world. It originated as ARPANET in 1969, as a project of the U.S. Department of Defense. Today the Internet impacts many areas of human culture and commerce. The Quisto editorial staff has evaluated these websites and placed them in the Internet information category.
---
Copyright © 2004- Quisto.com. All rights reserved.
Quisto™ • Selected resources from the World Wide Web.

Quisto > Internet Information Directory