---
---
Recent Weddings News
Are our weddings too white?
Why it might be time to rethink the way we celebrate as more couples come from diverse backgrounds.
BBC News. Sat, 18 May 2019 23:52:18 GMT.
---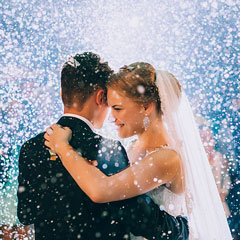 Weddings Websites
The word wedding is a noun. Wedding means (1) the act of marrying; the nuptial ceremony, (2) the social event at which the ceremony of marriage is performed, (3) a party of people at a wedding. The Quisto editorial staff has evaluated these websites and placed them in the Wedding information category.
---
Copyright © 2004- Quisto.com. All rights reserved.
Quisto™ • Selected resources from the World Wide Web.

Quisto > Society > Wedding Website Directory